Pailin Chongchitnant
Cordon Bleu Chef/ Cookbook Author/ TV host
Pailin Chongchitnant was born and raised in Thailand. After attending UBC, she made her way to Le Cordon Bleu culinary school in San Francisco and began cooking for both Western and Thai restaurants.
She is the author of the comprehensive Thai cookbook Hot Thai Kitchen, which is based on her popular cooking show on YouTube by the same name. She is also a co-host of the TV cooking series, One World Kitchen.
____________________________________________________________________
Alex Chen
Executive Chef
Boulevard Restaurant Sutton Hotel
http://boulevardvancouver.ca/
Executive Chef Alex Chen
Alex Chen's culinary vision is an inspired recipe of family tradition, classical technique and training and an artful infusion of casual West Coast flair and creative hints of his international influences.
Boulevard's opening in July 2014 marked Alex's official return to his hometown of Vancouver after charting a top-10 finish representing Canada at the prestigious Bocuse d'Or culinary competition in Lyon, France in 2013. Alex previously spent six years as the executive chef of the legendary Polo Lounge at the Beverly Hills Hotel and held the roles of senior sous chef at the Four Seasons Hotel Chicago and chef de cuisine at the Four Seasons Hotel Toronto. In 2015, Alex set the gold standard at the 10th annual Gold Medal Plates competition in Victoria, winning the title of regional champion and the honour of representing B.C. at the Canadian Culinary Championships in Kelowna in February of 2016.
_______________________________________________________________________
R
obert Parrott
Executive Chef
http://www.mangiaebevi.ca/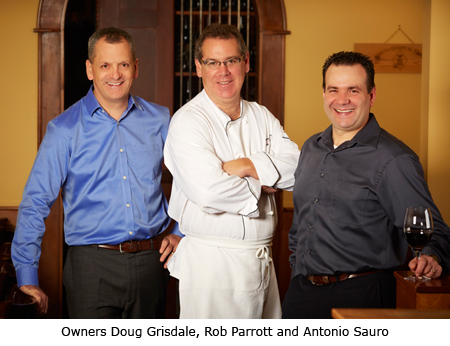 Rob Parrott worked for many years with the famed Corsi family in their chain of restaurants before bec
oming Executive Chef/Co-Owner of Mangia E Bevi.
His enthusiasm in the kitchen of old world cooking and the importance of fresh flavorful ingredients will make this class a

must for Italian food lovers!
_________________________________________________________________________
Lesley Stowe
: Creator of
Raincoast Crisps and author of Desserts from my Kitchen
http://lesleystowe.com/blog/
Lesley Stowe is a Parisian-trained chef who began her own catering company more than 25 years ago in Vancouver. A culinary pioneer, Lesley has helped to develop and refine the palettes of Vancouverites.
Frustrated by the lack of specialty foods in the city, she opened lesley stowe fine foods, offering customers a wide range of world class cheeses, breads, homemade entrees, desserts and hard-to-find grocery items. Lesley was also a frontrunner in offering tastings and classes to the public. Her specialty fine foods store was one of the first in the city providing Vancouverites the chance to sample extra virgin olive oils and 25-year-old balsamic vinegars and quickly became a destination shop.
In 1990, Lesley started selling her delectable dessert creations to the city's top restaurants and became known for her decadent Death By Chocolate confection. The store's success, combined with Lesleys ability to predict and capitalize on food trends resulted in the creation of Raincoast Crisps, an artisan cracker that was recently featured on Oprahs O List and in Martha Stewarts Whole Living
_________________________________________________________________________
Sea Salt
:
Recipes from the West Coast Galley
Sea Salt is a gorgeous collection of over one hundred sea-tested gourmet recipes suitable for meals aboard but equally satisfying for the home dining table. The authors are themselves dedicated sailors and bring readers on a voyage around Vancouver Island aboard their classic wooden sailboat Aeriel, drawing inspiration from the area's seafood, farmers' markets and wineries.
_________________________________________________________________________
Top Chef Canada contestant and
Chef of Mission Restaurant
2042 W 4th Ave, Vancouver
http://missionkits.ca/
Curtis grew up in Markham, Ontario, studied Computer Science and graduating at the University of Waterloo. After university he started in the restaurant industry.
His first job was as a dishwasher, then promoted to cook, worked at a casual place, then Indian and other restaurants around Waterloo. In 2008-09 he moved to Lake Louise to be a cook at the Chateau Lake Louise. Ending up at Atelier in Ottawa. He worked there for 1-1/2 years. He also worked as a Sous Chef at the Courtyard Restaurant. Top Chef Canada was casting and he decided to apply. After the show he moved to Vancouver to work at Fable Kitchen as the Chef de Cuisine.
____________________________________________________________________
Mary Halpen
One of the Great Author of;
The Best of Bridge Cookbooks
www.bestofbridge.com
In 1975, at a weekend getaway, eight women friends had an idea: Since a
consistent highlight of their decade-old bridge group was the food they
prepared and enjoyed together, perhaps they should think about writing a
cookbook. This spur-of-the-moment notion was the impetus for The Best
of Bridge, which went on to become one of the most successful brands in
North American publishing.
I am sure you have a few copies in your kitchen!
__________________________________________________________________
Chef/Owner of Thai Chef Casual
https://www.facebook.com/pages/Thai-Chef-Casual-
Panee Mesri and Sudkany Nganyangwai
Panee Mesri arrived from Thailand worked at the Thai House restaurant for many years before venturing out on her own to opening T

hai Chef Casual Thai Cuisine.
They now have two locations, North Vancouver and Burnaby. Their food is always made with the
freshest ingredients
and are made to order. They are a regulars at Ambrosia.
________________________________________________________________________________________
Chef/Owner of Vij's, Rangoli, Railway Express, Vij's at Home frozen food line and two cookbooks
http://www.vijsrestaurant.ca/
Born in India in 1964 and raised in New Delhi and Bombay for the next 20 years, Chef Vikram Vij is a transplanted native son. He began cooking when he was only 10 years old (for his mother and friends at tea), but Chef Vij took his chops pro when he studied Hotel Management in Austria. After working in Salzburg and Vienna for a few years, Vij made the trans-hemispheric move to Canada to work at the Banff Springs Hotel in Alberta. In 1994, the then 30-year-old chef opened his namesake fine-dining restaurant, Vij's, in Vancouver, and was soon joined by his wife, Meeru Dhalwala.
With the success of Vij's, chef and wife felt confident enough to open their second outpost, the more informal, home-style, Rangoli, in 2004. A certified sommelier, Chef Vij has a very strong presence in the front of house at both establishments. And his forthcoming line of gourmet packaged curries has recently moved to an external facility in Surrey, British Columbia.
______________________________________________________________________________
Dana Hauser
Executive Chef Waterfront Hotel
I

n firsts for both The Fairmont Waterfront and Fairmont Hotels & Resorts, in February 2012, Dana Hauser was appointed as the luxury brand's first female Executive Chef. Chef Hauser brings over 14 years culinary experience, joining Fairmont Hotels & Resorts in 1998 at the Jasper Park Lodge. Holding several progressive positions at the Fairmont Southampton, Bermuda and the Royal York in Toronto, she is now at The Fairmont Waterfront in Vancouver.
Dana received her culinary diploma from Canadore College in Ontario and has her Journeyman, Red Seal certificate from SAIT in Alberta. Chef Hauser has travelled as a guest chef, and most recently in 2012, as an honorary Chef at the James Bear House, in New York. She has been featured on CityTV, CBC TV, Global TV, the Food Network, and has contributed to a number of charitable causes including the 2012 Les Dames d'Escoffier Julia Child 100th Birthday Gala Dinner in support of women in the culinary industry, and also participated in the Bermuda Culinary Arts Festival catering to celebrity Chef Anthony Bourdain.
______________________________________________________________________ ______
Brian Skinner
Chef/Owner Acorn Restaurant
Vegan, vegetarian and gluten free food may raise the spectre of flavourless, tasteless "health food" but at The Acorn, Chef Brian Skinner's food defies those preconceived notions.
My approach is trying not alter food too much from a natural state. I really like showcasing a carrot or a piece of broccoli in a way that gives you an accurate representation of what that ingredient is. We can alter and manipulate the food to be a jelly, a foam, a sauce or a puree but if we're doing that we try to really distill what that ingredient is about so there's a lot of clarity about what these ingredients are.
The Acorn came about because I've primarily been a vegetarian for the last 15 years so I get most excited about vegetables. I wanted to focus introducing people to new ingredients and really highlighting what Greater Vancouver area farms have to offer and how it good it tastes when it's straight out of the ground.
We don't advertise as being vegetarian. We are and people understand that but it's not about being vegetarian. It's about really good food and trying to make the food as tasty as possible so the vegetarian part is incidental.
______________________________________________________________________
Daniel Wagner
Soup Artist/Owner of Rain City Soups
http://www.raincitysoups.com/about.html



Soup has always been a passion of mine. Over the years, friends kept telling me that my soup

creations were great and that I should start selling them.

So here I am, making soup by hand in small batches.

I have carefully researched the producers of the ingredients I use and have selected only freshest and

most natural ingredients for use.

In my soups you will find absolutely no chemicals, additives or preservatives of any kind.

Give our small-batch, hand-made Artisan soups a try and feel the love I put into creating every
single amazing, nourishing bowl!

______________________________________________________________________

Shelley Adams


Author of Whitewater Cooks
http://www.whitewatercooks.com/





What more can be said about Shelley Adams? A fine cook, beloved friend,
a Nelson treasure; all wrapped up in a fun-loving food artist with a brilliant


smile and




infectious laugh. After leaving Whitewater Ski Resort behind, Shelley settled




in to enjoying life with her husband Mike and their two children, now grown




and

off to university. All this free time gifted Shelley an opportunity to play with




more recipes, perfecting flavours and rallying her dearest friends into




contributing to this latest Whitewater Cooks.




It is true, after all: the third time is the charm.




_____________________________________________________________________




Trevor is a 30 yr old Chef from Montreal, culinary trained at Algonquin College in Ottawa and volunteered in Peru, cooking for 30 volunteers who were building an elementary school in Lima.
He has worked at the Vancouver Shangri-La as well as other restaurants from the east to west coast. During the Top Chef Series Trevor came up with the name and concept for his new restaurant, Fable. His cooking philosophy in his restaurant menu is fresh, local farm to table Canadian style dishes.


___________________________________________________________________
Sean Murray
Yew Restaurant Chef
Sean Murray is thrilled to be back in the kitchens of Four Seasons Hotel Vancouver. Having been the last reigning Restaurant Chef of Chartwell back in 2006, Murray knows a thing or two about local culinary legend.
Having roamed the international kitchens of Four Seasons Hotels and Resorts with his most recent position at Four Seasons Costa Rica picking up new skills, techniques and languages, Murray is now back home.
__________________________________________________________________
Executive Chef Cru Restaurant
Raised in Vancouver Cru's Executive Chef Alana Peckham studied at Dubrulle's. She worked at Fennie's and Lumiere before joining the staff at Cru where she quickly rose through the ranks to become the restaurant's Executive Chef. Alana's cooking style is influenced both by her training in traditional French culinary techniques and by her cultural heritage as a Chinese Canadian. As the Executive Chef of a restaurant that focuses on pairing food and wine she enjoys the challenge of preparing cuisine that works together with wine to create a complete sensory experience for guests.
_______________________________________________________________________________
Jonathan Chovancek
Chef/Proprietor, Kale & Nori
C

hef Jonathan Chovancek has over 16 years experience cooking across Canada beginning on Vancouver Island in such award winning, ingredients driven restaurants as the Aerie Resort and Sooke Harbour House. From 2004-2011 Jonathan was Chef de Cuisine at Culinary Capers in Vancouver cooking award winning cuisine at events as far away as Torino, Italy and Beijing, China! Jonathan's team served an incredible 59,000 people at 600 events over three weeks at the 2010 Olympic Games in Vancouver. Jonathan is now the proud co-owner of the hot new boutique catering company based in Vancouver,
__________________________________________________________________
Todd Howard
Executive Chef of Cin Cin
Todd Howard's leadership in the CinCin kitchens, first as chef de cuisine and now as executive chef, speak to his prodigious culinary talents as well as his strong team-building skills.
Todd's resumé saw him earn top marks at the Southern Alberta Institute of Technology's (SAIT) Culinary School before landing at two leading Calgary restaurants. But it was a two-year posting in London that saw him grow into his potential. In 2004, Todd joined the restaurant Angela Hartnett at The Connaught Hotel, a Gordon Ramsay restaurant, while also performing stages at Heston Blumenthal's The Fat Duck and London's iconic Le Gavroche. In 2006, Todd returned to Canada to join CinCin's sister restaurant West, and then as head chef he opened Watermark Restaurant in the British Virgin Islands.
______________________________________________________________________________________
Karen Barnaby
Executive Chef
Karen Barnaby started cooking at the age of eight and has not been able to stop. Her professional career started twelve years later on a pink, four-burner electric stove in the basement of a restaurant in Ottawa where she baked carrot cakes, cheesecakes, quiches and other culinary marvels of the late 1970's.
Karen has lived and worked in Toronto and Mexico, and for the past twenty years has called Vancouver home. She has been the Executive Chef of the Fish House in Stanley Park since 1995.
With her no-nonsense and approachable style, Karen has been a well-respected cooking teacher, speaker and inspirational role model. She is the only woman to hold the British Columbia Restaurant Association Back of the House Award for Excellence and has received a Minerva Award for Community Leadership
Karen has written and edited award winning cookbooks, contributed recipes to numerous publications and writes a popular column for the Vancouver Sun.
As a volunteer, she has edited the Helping Hands Cookbook, written to support Vancouver's Community Kitchens Project, is the Secretary and past president of Les Dames d'Escoffier Vancouver Chapter, cooks for charity dinners, and helps around her neighborhood
____________________________________________________________________
______________________________________________________________________________